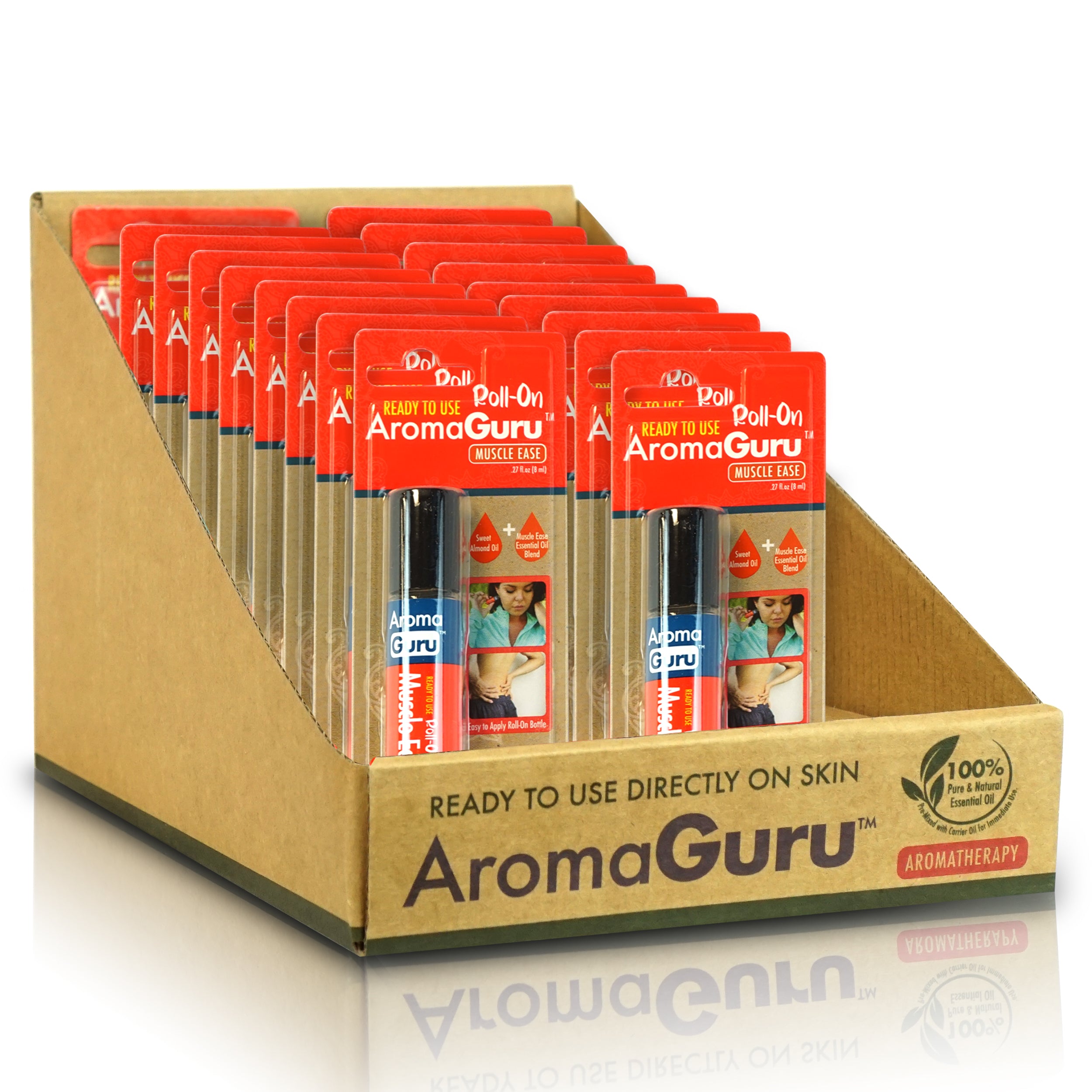 Muscle Ease Roll On (pack of 18)- Wholesale Only, Contact to Purchase
For inquires on purchasing this item, please contact us through the contact form.
Inspired by Ayurvedic traditions, GuruNanda Products are carefully blended and crafted with the help of our in-house aromatherapist. Our aromatherapy products are created for users looking for clean, all-natural products to carry and use everyday on-the-go.

Do you suffer from painful muscle aches, tensing, stiffness, and soreness from your everyday life activities? Tired of using over the counter medicines and harmful chemicals being ingested in your body?

Its time for you to try our all-natural essential oil therapy for the ultimate muscle relief.


BENEFITS OF GURUNANADA ROLL ON ESSENTIAL OILS

✔ Pain relief in muscles

✔ Relax body muscles

✔ Ease Headaches & Relieve Migraines

✔ No need for Diffusers or mixing. Prediluted and ready to use.

INGREDIENTS

100% Pure Wintergreen (Gaultheria Procumbens)

Eucalyptus (Eucalyptus Globulus)

Peppermint (Mentha Piperita)

Ginger (Zingiber Officinale Root)

Black Pepper (Piper Nigrum Seed)

Turmeric (Curcuma Longa Root)

Nutmeg (Myristica Fragrans Kernel)

Sweet Almond (Prunus Dulcis) Oil

CAUTION

Not for broken or irritated skin. Keep out of the reach of children and animals.


Enjoy the soothing and relaxing aromatherapy with all-natural GuruNanda Muscle Relief Roller. Add to cart now!
You probably don't spend much time thinking about your liver, but it does lots of heavy lifting for you! It filters out toxins from your blood at the amazing rate of a quart per minute. It sorts out the good from the bad, keeping anything useful and tossing out the junk. As the world becomes more and more toxic, a liver working at optimal capacity plays a bigger role in health and well-being than ever before. Swanson's Milk Thistle supplement is the ultimate in liver health. Silymarin, a powerful antioxidant flavonoid, contains specific protective benefits for liver tissues, making milk thistle a premier liver tonic. Our convenient capsules deliver 500 mg of milk thistle nutrition that won't put a dent in your pocketbook.